Protected areas > Huai Kha Kaeng Wildlife Sanctuary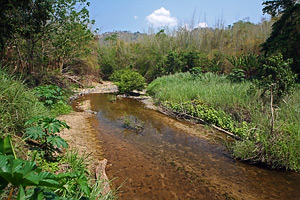 The creek in the neighbourhood of the sanctuary's headquarters flows to the Kha Kaeng river
Combined with the adjoining Thung Yai Naresuan Wildlife Sanctuary, Huai Kha Kaeng forms the largest protected area in mainland South-East Asia, covering in total 622,200 ha. Although the two sanctuaries are administered separately, they are essentially a single conservation area. Both of them were declared a World Heritage Site by the United Nations in 1991.

History

The wildlife sanctuary was created on September 4, 1972.

Flora

Thung Yai Naresuan/Huai Kha Khaeng has some important wetland sites, riverine forests, small lakes, ponds, swamps, savannahs and many streams, all suitable for wildlife breeding expansion.

Fauna

Huai Kha Khaeng supports a significant proportion of Thailand's animal species. Of Thailand's 265 mammal species, 67 are known to occur in this sanctuary.

Some 24-40 water buffalo (the only herd in Thailand) are found in the south of the sanctuary, but there is some doubts whether or not there has been any interbreeding with domestic animals. Other threatened mammals include Asiatic wild dog, tiger, a few species of leopard, Asian elephant (estimated to number 150-200 animals), Asian tapir (rarely seen, but tracks are common in parts of the sanctuary). Gaur and banteng are still fairly common, although they have become increasingly rare elsewhere in Thailand due to poaching. At least two species of otter have been identified. All five macaque species occurring in Thailand are present as are other primate species.

Accommodation

Camp site and bungalows are available at the sanctuary's headquarters and some ranger stations.

Transport

70 km from Ban Rai (Uthai Thani province) by car along a partly paved road. 4WD is not necessary in the dry season (November to April).

Access to the wildlife sanctuary

Huai Kha Kaeng is a wildlife sanctuary, which is much more strictly protected area than a national park. Wildlife sanctuaries are designated to allow as free and undisturbed movement of animals as possible. Therefore they are open mainly for educational or scientific research or for volunteering. Special permit is necessary to enter a wildlife sanctuary.

More information

For more detailed information on Huai Kha Kaeng see the United Nations Environment Programme page.