Protected areas > Thung Yai Naresuan Wildlife Sanctuary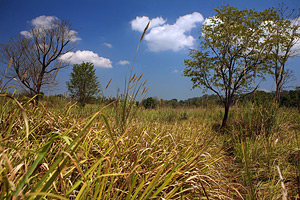 Savannah of Thung Yai East

Tiger Cave

Dracontomelum mangiferum
Morning mist

Combined with the adjoining Huai Kha Khaeng Wildlife Sanctuary, Thung Yai Naresuan forms the largest protected area in mainland South-East Asia, covering in total 622,200 ha. Although the two sanctuaries are administered separately, they are essentially a single conservation area. Both of them were declared a World Heritage Site by the United Nations in 1991.

History

King Naresuan of Ayutthaya twice made bases in this area (in 1590 and 1605) to prepare for an invasion of Burma. Later this site was called Thung Yai Naresuan, which means great grassland of Naresuan.

The area has been relatively uninhabited. The forested hills are unsuitable for farming and the area is still malaria-infested. This prevented the environment from being changed much by humans and therefore kept it in its natural condition. Because of that, most of the wild animals typically found in forested areas in South East Asia have been seen in this area, including some rare ones such as tigers.

The sanctuary was created on April 24, 1974.

Climate

The wildlife sanctuary's climatic zone belongs to the tropical zone or subtropics due to its height. The average temperature is between 15-35 C in summer, 20-33 C in the rainy season, and 10-29 C in the dry season. It has annual rainfall of 2000 mm.

Geography

Thung Yai-Huai Kha Khaeng has some important wetland sites, riverine forests, small
lakes, ponds, and swamps.

Flora

The principal vegetation types in Thung Yai are hill evergreen forests (54,900ha), dry evergreen forests (112,900ha), mixed deciduous forest (164,100ha) and dry dipterocarp forest (3,600ha), savanna forest (9,900ha), grassland (3,900ha) and areas of swidden agriculture (15,400ha).

Fauna

The fauna of Thung Yai includes some 120 mammals, 400 birds, 96 reptiles, 43 amphibians and 113 freshwater fish. Some more species are suspected as being present but not confirmed. The sanctuary is big enough to support space for several large mammals, which are rare or absent now in most areas of Thailand. Tiger, leopard, clouded leopard, asiatic elephant, tapir, Sumatran rhinoceros, gaur, mainland serow and hog deer are found here. In 1985 a herd of 50 gaur was seen, the largest herd recorded in Thailand. Neither banteng, nor wild water buffalo are confirmed for the area, although both species live in the neighbouring Huai Kha Khaeng Wildlife Sanctuary. A track of the The Javan rhinoceros, which is said to have existed in the area was photographed in 1988.

What to See and Do

The 2km natural trail at the headquarters of the east part of this World Heritage site will give you an impression of the vegetation of the sanctuary.

Accommodation

East - camp site is available at the headquarters of Thung Yai East.

Transport

East - 50 km from Um Phang (Tak province) on tour or by car along a partly paved road number 1090. 4WD is not necessary.

Access to the wildlife sanctuary

Thung Yai Naresuan is a wildlife sanctuary, which is much more strictly protected area than a national park. Wildlife sanctuaries are designated to allow as free and undisturbed movement of animals as possible. Therefore they are open mainly for educational or scientific research or for volunteering. Special permit is necessary to enter a wildlife sanctuary.

More information

For more detailed information on Thung Yai Naresuan see the United Nations Environment Programme page.